This summer, Seven Events' business development manager Kelly Madigan was hosted by Belmond Reid's Palace and Abreu Events DMC on a fam trip to Madeira and fell in love with the Portuguese island. She shares some of her favourite experiences and what the destination can offer incentive groups…
The Portuguese island of Madeira is easy to reach at just over three hours flight from London Gatwick to the city of Funchal. There are also regular direct flights to Funchal from Birmingham and Manchester. Madeira has only one airport, and its runway along the coastline offers spectacular views of the island from the moment of arrival. Look out for the infamous Cristiano Ronaldo statue outside of the airport, a perfect selfie opportunity!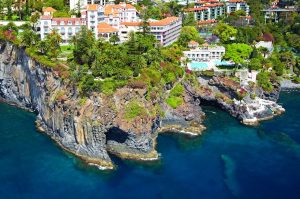 A short twenty-minute transfer from the airport is the Belmond Reid's Palace hotel where we stayed. Steeped in history, it has been the jewel of the island's hospitality scene since being established in 1836 by Scotsman William Reid.
The hotel cascades its way down the cliffside, from the terrace of the highest floor where high tea is served, down to the garden level with swimming pools and a spa and continuing all the way down to the ocean with a private sea bath. The hotel is famous for hosting Winston Churchill for a holiday during which he wrote his memoirs, and the presidential suite he stayed in can be booked.
It's an ideal hotel for groups, with 158 bedrooms, most with a terrace or balcony and ocean views, and a variety of room categories to accommodate all groups and budgets. There are four restaurants onsite as well and conferencing facilities which have been newly renovated in 2018.
If you can bear to leave the stunning hotel there are a plethora of unforgettable experiences to be enjoyed on the island. Madeira seems to have it all – incredible coastline surrounded by the north Atlantic Ocean, seaside vineyards, epic mountain peaks, and the endless terracotta rooftops of the beautiful old buildings that the locals call home.
The climate in Madeira is warm, even in winter the temperature rarely falls below 16 degrees making it a perfect destination for winter sun. And with an unlimited supply of fresh air and water, the island is lush and green, brimming with tropical flowers and fruits, which gives Madeira its nickname of being the floating garden.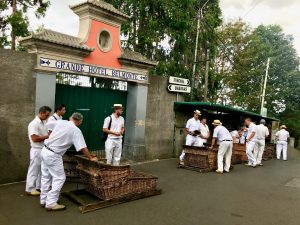 Our activities began with a cable car ride to the top of one of the highest peaks with stunning views over Funchal. Once at the top, there are two options for getting back down the mountain – either back on the cable car or enjoying the totally unique tradition of a Madeiran toboggan ride: a basket which is skied down the hill by men wearing traditional straw hats and very sturdy shoes. It's a good laugh and a thrill not to be missed.
Once safely back in Funchal, a stiff drink is in order, so it's the perfect time to walk to the market and sample the strong local tipple Poncha, as well as the amazing tropical fruits – we tried about six different flavours of passion fruit!
That evening we had dinner at the Michelin star restaurant William at the Belmond. Head chef Luis Pestana is the first Madeiran ever to be awarded a Michelin star and now competes with Mr Ronaldo for celebrity status.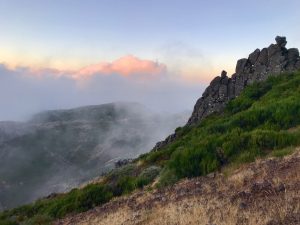 In the morning, breakfast is served poolside at the Belmond Reid's Palace. There was no relaxing by the pool for us however as we were collected in a minibus for 40-minute drive from the hotel to the mountains. It's well worth rising early in Madeira to enjoy a spectacular sunrise over the mountaintops, and for an extra special experience, you could arrange an al fresco silver service breakfast for your group outdoors.
For something a little more challenging, there are a range of adventure sports on the mountains including mountain biking and, as our group experienced, canyoning. Kitted up in helmets and thermal wetsuits, we spent the next three hours descending a waterfall with the help of expert guides. From the top of a waterfall, we abseiled down rock faces, plunged into pools and slid along natural rock slides. It was lots of fun, not too physically strenuous and an excellent team bonding experience.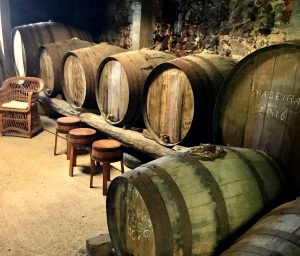 We worked up an appetite from the canyoning, so after a pit stop at the Belmond Reid's Palace to refresh, we headed to a secluded vineyard restaurant which can only be reached by cable car or boat. Faja Dos Padres was originally a monastery and its vineyard has been producing Madeiran wine since the 15th century.
In modern times it has been owned by the same Madeiran family for generations and is now also is an organic farm and a beachside restaurant. As a grand finale to an unforgettable weekend we were collected from the jetty outside the restaurant in a high-powered speed boat. The boat took us out on an expedition to spot whales and dolphins, which can be found in Madeira's waters most of the year.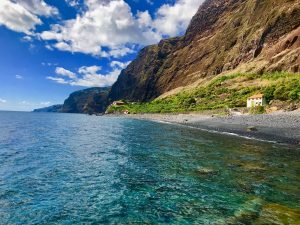 We were lucky enjoying to find a pod of dolphins who followed our boat and put on a display leaping out of the water. There are lots of options for groups to enjoy the ocean, including hosting up to 200 guests on catamaran for a dinner and party. After our boat trip our Madeiran adventure had sadly come to an end, but not before a final shopping trip.
Madeirans are all about eating and drinking so a perfect take away gift is of course a bottle of sweet Madeiran wine and some Madeiran tea cake, so you can continue to savour the delights of Madeira after you've returned home.