Penguins' marketing manager Anthony Kelly shares his insights into what the Slovakian capital has to offer #eventprofs following a recent visit….
When invited to explore the capital of the Slovak Republic, there were very few preconceptions. Frankly, we just didn't know anything about the destination. However, we are extremely happy to say that is no longer the case and Bratislava is now fixed in our minds as a fantastic destination for a whole range of events and incentives.
Our two-day exploration began with an early morning flight from London Heathrow to… Vienna, Austria. This was the start of many pleasant surprises. Whilst Bratislava has a plethora of benefits to offer the events world, it all becomes a little more exciting when you realise that within 20 minutes' drive you can be in either Hungary or Austria (Imagine touring the vineyards of these three nations in one trip, it is possible!). There are however direct flights into Bratislava from both London and Manchester.
Upon arrival, we were met by the brilliant team from the Bratislava Convention Bureau, who delivered us to our home for the next two days, Grand Hotel River Park (right). Nestled on the banks of the river Danube in a stylish and modern complex, this Luxury Collection Hotel has fantastic views across the Danube and if you are lucky enough to get a room on the higher floors, a view of the landscapes of Slovakia, Hungary and Austria. This hotel has plenty to offer if you are planning an automotive event, with the ability to display cars in the hotel lobby and on the stunning external terraces with the Danube as a perfect backdrop.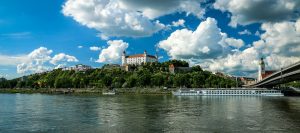 Not wishing to waste a moment, we set out on a historical walking tour of this stunning city. The streets aren't busy, but they are bustling. The architecture appears ancient and grand whilst not imposing. Bratislava Castle perches above the city, sitting guard, prominent on the skyline. A quick stop here to lap up even more stunning views of the city and countries, which lie beyond, is a must. Luckily, it is on the way to a fantastic dining spot and boutique hotel, Hotel Albrecht. With 17 fantastic rooms and luxury spa facilities, this is a brilliant destination for a small incentive group or intimate business meeting, but it is worth a visit for the food alone.
Our second day got off to an early start, setting off on an approximately 40-minute journey to the Slovak Ring – Europe's second longest motorsports complex. On first appearance, the complex appears a little basic in terms of supporting infrastructure, but it is about as much of a blank canvas as you are going to get in terms of racing facilities, with endless branding opportunities and ample space for the addition of temporary structures. The course itself is extremely versatile with six configurations, and with 80% of the track visible from the main grand stand, there is a heightened sense of energy as the racing unfolds in front of your eyes.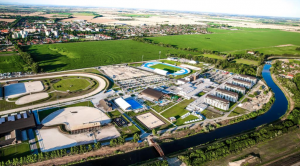 After leaving the track, we headed to what we believe to be the jewel in Bratislava's crown, X-Bionic Sphere. This stunning sports and leisure resort sits on the banks of the Danube, boasting 1,000,000sqm of high-class sporting facilities for the performance of 27 Olympic disciplines (awarded official Slovak Olympic Training Centre). As well as the outstanding sporting facilities, amongst the manicured gardens and pristine walkways, the site boasts 282 bedrooms, six rooftop suites, four restaurants, state of the art conference and congress facilities and an onsite cinema.
After a short walk through the grounds, we were met by a fleet of speedboats to deliver us to our next stop, The Danubiana private art museum, home to a fantastic collection of modern art and a stunning backdrop for events.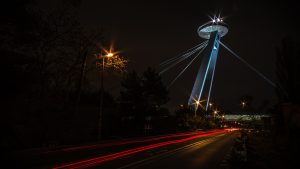 After a hectic agenda, a relaxing dinner was definitely required and we headed to the foot of the bridge that cuts across the Danube in front of the old town. Named "Most SNP" ("Bridge of the Slovak National Uprising"), the bridge has a single pylon, which soars high into the clouds and was our dining spot for the evening. Entering the bridge at ground level, the lift takes 42 seconds to transport you to the "UFO", as locals have lovingly named it – a disc shaped platform which houses an exclusive bar and restaurant with a fantastic open-air viewing gallery on its roof. The final surprise of the evening came when one of windows was thrust open and diners were offered the opportunity to take a skywalk around the periphery of the UFO. Balancing on a small ledge, brave participants ambled around with varying levels of confidence (securely fastened we must add).
Heading back to the airport early next morning we were filled with excitement at the deluge of opportunities that Bratislava has to offer, it is our belief that we barely scratched the surface. We will definitely to return to explore more of Slovakia and maybe even explore how a triple destination event or incentive could be maximised to its full potential.
Read Anthony Kelly's full blog post on Bratislava
Check out micebook's online Destination Spotlight Guides
Our global supplier members are busy building their content and creating stunning profile pages, so please bear with us while in our soft launch (beta) phase. Your feedback is important to us as we roll out new features, so please share, get on board and help us make this the definitive inspiration hub for #eventprofs
If you're not already registered, and you're an event planner/buyer, be sure to register your details and join the micebook community. We'll keep you updated with latest news and insights with our micebook Departure Lounge bulletin plus keep you informed on exclusive micebook events.