The countdown to Christmas 2018 is now officially on and if you're still on the lookout for the perfect place to celebrate with your team, then check out our pick of the hottest themes and venues in London this festive season…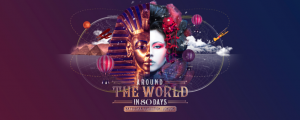 Around the World in 80 Days at Battersea Evolution
A fully immersive event that will test all the senses and transport guests to a different world with the help of décor, entertainment and food, Smart Group's Around the World in 80 Days themed Christmas party is the perfect option if you want to explore every corner of the globe but just don't have the time to do so.
From ancient Egypt to Marrakesh, all the way across to Japan, with chances to witness the Northern Lights and Moroccan Raid on the way, you can spend the evening playing the part of Phileas Fogg and embrace the culture and cuisines of all the countries on the map.
One of the biggest Christmas events hosted in Battersea Evolution to date, it will be a truly international celebration.
Dystopian Dream at Printworks
One of London's biggest and most unique Christmas venues, Printworks unveils its inaugural festive party experience, where guests are invited to enter a parallel world. Only the truly curious will make it to the end in this mirage of false lights and shadowy depths. For in the Dystopian Dream, everything familiar suddenly seems strange and the strange becomes oh so familiar.
The backdrop for this unique experience is The Press Halls, the jewel in the Printworks crown, which retains original machinery and industrial features in two large, fully sound-proofed rooms. A specialist lighting rig consisting off over 50 moving lights across eight fully automated lighting trusses will create different looks and movements, while 70 lasers spread the full length of the dance floor will create a roof of lasers above guests heads. An additional 30 moving lights and four trusses will extend the lights the full length of the dining space
Frosty Christmas at Belowzero Ice Bar

Christmas at Belowzero Ice Bar brings the frozen magic of the arctic to Central London. The walls, bar, tables and even your own personal glass are made from crystal clear ice. A skilled team of ice designers and sculptors annually transform this  pristine winter wonderland to create frosted themes like Rock'n'Roll and Outer space.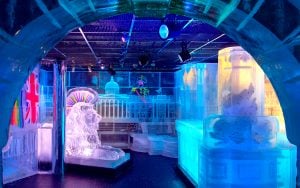 After your guests have chilled out at a deliciously frosty -5 degrees in the Ice Bar, warm them up with mouthwatering contemporary canape and bowl food menus. There are three warm spaces and one icy one flexibly catering to parties from 25 to 270 with late licenses available on request. The Wolf Bar, Reindeer and Moose rooms can be hired together or individually on a minimum spend basis.
Cirque Lumiere at The Bloomsbury Big Top
This Christmas, a new theme is coming to London – a spectacular extravaganza of circus delights. On arrival, guests will marvel at aerial entertainment while enjoying a sparkling reception, before being led through the illuminated walkway to the Big Top for a sumptuous three-course dinner.
Dramatic acrobats on hoops and silks will swing above your guests' heads, and during the sumptuous dinner, entertainers will rotate around the Big Top, showcasing their skills. After dinner, guests have a wealth of entertainment at their disposal, from roulette to black jack; or dancing to tunes provided by a top DJ.
Viva Las Vegas at The Brewery
In December 2018, let The Brewery transport you to the glory days of 1960s Las Vegas. Elvis and Priscilla have eloped at The Aladdin, Siegfried & Roy have debuted at the Tropicana and a new wave of big-money casinos are popping up on the strip transforming the once dusty oasis in to Sin City as we know it. This Christmas, The Brewery invites you to the grand opening of The Golden Palms Lounge & Casino.
Check out the London Destination Guide on micebook for more inspiration
Our global supplier members are busy building their content and creating stunning profile pages, so please bear with us while in our soft launch (beta) phase. Your feedback is important to us as we roll out new features, so please share, get on board and help us make this the definitive inspiration hub for #eventprofs
If you're not already registered, and you're an event planner/buyer, be sure to register your details and join the micebook community. We'll keep you updated with latest news and insights with our micebook Departure Lounge bulletin plus keep you informed on exclusive micebook events.