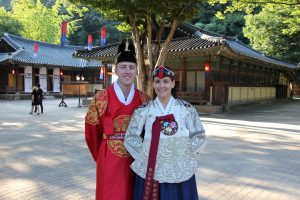 Given the opportunity to research, travel and report on emerging destinations for the MICE industry, BI WORLDWIDE's in:sight project recently saw Design Manager Heidi Williams and Project Executive Michael Pollard spend five days in South Korea.
Exploring the latest developments in this extraordinary destination, which is now Asia's third largest economy, Heidi and Michael share their time in South Korea with micebook…
"Seoul, the Capital of South Korea, felt like a blend of New York, London and Singapore with a preserved level of Asian hospitality that sees almost everything said or delivered with at least one bow.
The Capital was very much a tale of harmonious contrast; ancient Palaces that preserve almost 5,000 years of history nestled amongst impressive skyscrapers set against a stunning mountainous backdrop and a culture of humble respect and sincerity. We were fortunate enough to wake up to this view as we stayed on the 16th floor of the Grand Hyatt in Seoul.
To truly experience South Korea, we had a jam-packed itinerary which saw us visit the changing of the guards ceremony at Gyeongbokgung Palace; dine at the iconic Namsan Seoul Tower offering a spectacular 360° view of the city; watch an utterly mesmerising performance of Korean martial art at the World Taekwondo Headquarters, and experience a tour of the DMZ which was a personal highlight of ours.
Seeing North Korea's Propaganda Village from the Dora observatory was mind-shifting and venturing into an actual infiltration tunnel was a once-in-a-lifetime experience. Of course, including a tour such as this for a group incentive would require careful consideration. However, our personal takeaway from the experience was one of education and enlightenment.
We came away from South Korea knowing that we had only just scratched the surface of what it had to offer smaller incentive groups. Whilst there's so much you're able to do in Seoul, it would almost feel a wasted trip to not explore the beauty and culture the rest of the country has to offer."
Written by: Heidi Williams & Michael Pollard
Check out micebook's online Destination Spotlight Guides
Our global supplier members are busy building their content and creating stunning profile pages, so please bear with us while in our soft launch (beta) phase. Your feedback is important to us as we roll out new features, so please share, get on board and help us make this the definitive inspiration hub for #eventprofs
If you're not already registered, and you're an event planner/buyer, be sure to register your details and join the micebook community. We'll keep you updated with latest news and insights with our micebook Departure Lounge bulletin plus keep you informed on exclusive micebook events.