We are off to inVOYAGE 2018 in an intriguing Arabian destination
Our good friends over at inVOYAGE have organised their 2018 gathering for the organisers of luxury travel and high-end incentives in the northernmost emirate of the UAE, so we're off to Ras Al Khaimah to check out this Arabian Gulf destination.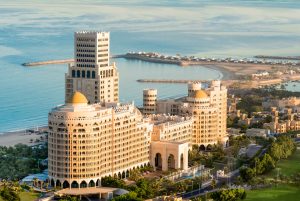 The host hotel for the annual event is none other than the opulent Waldorf Astoria, a resort hotel just 45 minutes drive from Dubai International Airport, surrounded by deserts to explore, mountains to admire and a seafront location.
Ten restaurants and lounges are on offer within this palatial style resort, and delegates hoping for a touch of downtime can sneak out to the 18-hole championship golf course or unwind in the spa,  which features a flotation bed and signature herbal sauna.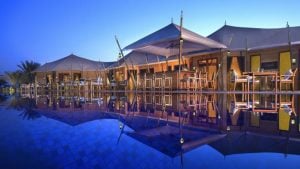 But this tiny emirate offers more than one luxury choice. Check out the Ritz Carlton Al Wadi Desert, set within a stunning 1,235 acre protected nature reserve. Think desert treks on camels or horseback, archery lessons, oryx spotting, falcon shows and evenings spent stargazing as the night falls.
Each of the luxury villas, inspired by Bedouin architecture, feature private outdoor pools and spectacular views.
Meanwhile sister property, The Ritz-Carlton Ras Al Khaimah, Al Hamra Beach is located in an enviably secluded spot along a white beachfront, with gorgeous beachfront pool villas welcoming a well-heeled clientele in search of an ocean retreat.
Landmarks worth discovering include the National Museum of Ras Al Khaimah housed within an ancient fort and the Mohammed bin Salem Mosque, while activities include turtle spotting, bike trails in the mountains and four-wheel safari drives. Don't say – this is the new Dubai, right? Do say, this is a gloriously authentic slice of real Arabia.
Check out micebook's online Destination Spotlight Guides
Our global supplier members are busy building their content and creating stunning profile pages, so please bear with us while in our soft launch (beta) phase. Your feedback is important to us as we roll out new features, so please share, get on board and help us make this the definitive inspiration hub for #eventprofs
If you're not already registered, and you're an event planner/buyer, be sure to register your details and join the micebook community. We'll keep you updated with latest news and insights with our micebook Departure Lounge bulletin plus keep you informed on exclusive micebook events.