If you haven't heard of Plovdiv, chances it'll be high on your radar of places to visit very soon. One of the oldest cities in the world, and Bulgaria's second largest city, the destination has been named a European Capital of Culture for 2019, and for good reason.
Like Rome, the city was built on seven hills and boasts a colourful history that goes back over 6000 years – it was originally a Thracian settlement before becoming Greek then Roman. It was also part of the Byzantine and Ottoman empires, before it later became part of Bulgaria. With a bustling old town, Plovdiv is scattered with ancient ruins, museums and galleries. There are plenty of reasons to visit this up and coming destination, but here's our top three…
Ancient architecture & archeology
Top of the city's must-see sights is its magnificent 2nd Century AD Roman amphitheatre. Until fairly recently, nobody knew that an entire Roman theatre was lying dormant beneath one of Plovdiv's hills – but after a freak landslide in 1972 uncovered it, the theatre was painstakingly restored and is now regularly used as a venue for plays and operas – in June and July, it hosts the Opera Open festival.
The city's Old Town is home to many Renaissance-period houses, many of which have been turned into guest houses and museums, such as the Ethnographic Museum, and the Revival Museum. Other highlights of the Old Town include Plovdiv's Church of Sveti Konstantin and Elena – the city's oldest church with its impressive exterior frescoes and bell tower – and the ruins of Eumolpias, a Thracian settlement in 5000 BC.
There's more history to discover in the hills surrounding the city, such as the ornate Bachkovo Monastery, the second-largest monastery in Bulgaria.
Bustling arts & culture scene
Well worth a wander is the hip Kapana quarter, west of the Old Town, known as The Trap because of its tangled web of narrow cobbled lanes.
The district emerged as a centre for craftsmen five centuries ago, and its streets bear names like Kozhuharska (Leather Street), Zhelezarska (Iron Street) and Zlatarska (Gold Street). Nowadays you will not find traditions craftsmen here but contemporary galleries, workshops, ateliers, studios, cosy restaurants and shops, as well as other art spaces. This is due to the massive three-year joint efforts of the Plovdiv Municipality and "Plovdiv 2019" Foundation put in transforming the until recently neglected part of the city into a real art centre and a districted dedicated to creative industries. This project is also part of the artistic programme of "Together" – the concept and motto Plovdiv won the European Capital of Culture 2019.
With a thriving nightlife scene, the Kapana district regularly plays host to concerts, exhibitions, festivals, theatrical performances, art installations, screenings and more.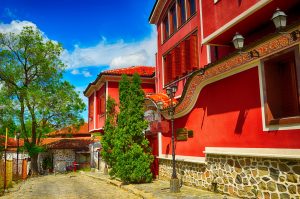 Boutique boltholes
As an emerging destination, Plovdiv has yet to attract the attention of the major international hotel groups, although it's likely to only be a matter of time.
Instead of big brand hotels (Holiday Inn aside), the city boasts an array of quirky boutique boltholes, many of which are set in the city's historical houses.
Among the most highly-rated are Boris Palace Boutique Hotel, a luxury guesthouse with a unique feature – five of its nine floors are built into the cliff of one of the hills where the Old Town is situated, and Hebros Hotel (pictured), housed within a group of 200-year old Bulgarian Renaissance houses.
A more modern option, Landmark Creek hotel is one of the newest four-star hotels in Plovdiv. Located in a green picturesque city area – the Rowing channel park – the hotel offers 52 rooms, two luxury apartments, a garden restaurant, lobby bar, spa and fitness centre, outdoor pool, and meeting rooms.
Check out micebook's online Destination Spotlight Guides
Our global supplier members are busy building their content and creating stunning profile pages, so please bear with us while in our soft launch (beta) phase. Your feedback is important to us as we roll out new features, so please share, get on board and help us make this the definitive inspiration hub for #eventprofs
If you're not already registered, and you're an event planner/buyer, be sure to register your details and join the micebook community. We'll keep you updated with latest news and insights with our micebook Departure Lounge bulletin plus keep you informed on exclusive micebook events.