Epic Morocco Events suggests a mix of Marrakech and the High Atlas mountains for a memorable Moroccan incentive experience for adventurous groups…
For those with an active focus and for those with less available time, there is little better than to explore the region around Marrakech, and more specifically, the area bounded by Marrakech, the Agafay Desert and the Toubkal National Park.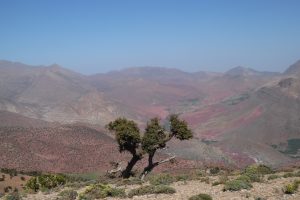 The region possesses great riches, and all of this variety of landscape and experience exists within an incredibly compact geographical area. For lovers of the outdoors, the mountains and the desert provide remote and beautiful experiences that are very hard to find in Europe, and we can create a number of special journeys through these off-the-beaten-track areas, whether on foot, horseback, by bike, or by 4×4.
This journey starts and finishes in Marrakech – a UNESCO World Heritage Site and a must-see city, on account of a wealth of diverse attributes and attractions, from excellent accommodation to colourful streetlife, great restaurants and a range of activities.
Marrakech provides a jolting culture shock and after a couple of nights, the High Atlas Mountains provide a perfect antidote to all the mayhem. Based out of a mountain auberge, or embarking on a linear hike, we suggest three days in the mountains, prior to continuing your journey by 4×4 into the Agafay Desert for a camel trek and a night under the stars.
The following is a sample 6-day itinerary, but all our incentive programmes are tailor-made for clients so can be made shorter if necessary:
DAY 1
Arrive Marrakech, meet English-speaking driver and transfer to the Marrakech medina for a two night stay on a bed and breakfast basis in a traditional "riad" guesthouse.
DAY 2
Dawn hot air balloon flight, time to relax and then afternoon half day city tour. Overnight hotel.
DAY 3
Transfer to the High Atlas Mountains, afternoon hike with a guide and three nights in a guesthouse in the heart of a Berber village OR linear hike through the mountains for three days.
DAYS 4 & 5
Walks to suit all fitness levels from your guesthouse. Overnight in Berber village.
DAY 6
Morning relaxing and afternoon transfer by 4×4 vehicle over the Kik Plateau and down into the Agafay Desert, optional camel trek, and overnight in a comfortable desert camp with dinner.
Check out micebook's online Destination Spotlight Guides
Our global supplier members are busy building their content and creating stunning profile pages, so please bear with us while in our soft launch (beta) phase. Your feedback is important to us as we roll out new features, so please share, get on board and help us make this the definitive inspiration hub for #eventprofs
If you're not already registered, and you're an event planner/buyer, be sure to register your details and join the micebook community. We'll keep you updated with latest news and insights with our micebook Departure Lounge bulletin plus keep you informed on exclusive micebook events.