Bright light city gonna set my soul….okay you've guessed it, this week we are off to Las Vegas. To party, right? Well while this is undeniably an incentive planners delight, with theme parks, OTT hotels, some of the best restaurants in the USA and 24-hour entertainment, this Stateside destination also packs a punch in the meetings stakes.
Over 3m convention attendees have conducted business in Las Vegas so far this year, according to recent stats revealed by the Las Vegas Convention and Visitors Authority, and a raft of new openings have caused Las Vegas's meetings star to shine even brighter in 2018.
These include newcomer The Madison Meeting Centre, a 10,000 square-foot urban sleek conference centre, which features ten additional rooms to accommodate all sizes of events from VIP boardroom gatherings to larger bespoke events.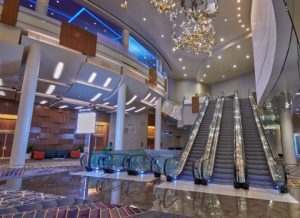 Also new to the C&I scene this year is the impressive expansion at Aria Resort & Casino (right) – where more than £120million has been spent on 18,500 square metres of event space, which includes ballrooms, a loading dock, pre function spaces and outdoor entertainment options including verandahs for 2000 delegates.The venue's new Cypress Executive Lounge  includes three private suites for one-on-one meetings, a conference room to host up to 30 delegates, and a study.
And one final one to watch – plans are now in development for the new Expo Center on the World Market Center Las Vegas campus. Bringing a much-needed new events proposition to downtown, the Expo Center is expected to be completed  by the end of 2020 or the start of 2021.
Check out micebook's online Destination Spotlight Guides
Our global supplier members are busy building their content and creating stunning profile pages, so please bear with us while in our soft launch (beta) phase. Your feedback is important to us as we roll out new features, so please share, get on board and help us make this the definitive inspiration hub for #eventprofs
If you're not already registered, and you're an event planner/buyer, be sure to register your details and join the micebook community. We'll keep you updated with latest news and insights with our micebook Departure Lounge bulletin plus keep you informed on exclusive micebook events.