From citizen M to Moxy, The Hoxton to The Bond, New York's burgeoning accommodation portfolio can cater to all tastes, so it's time to revisit the Big Apple and check out 2018's latest openings.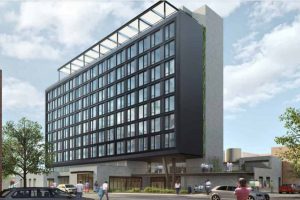 First stop is the forthcoming Hoxton Williamsburg (right), the first Hoxton hotel on North American soil, which opens this summer. The 175 rooms are contemporary sleek, as is The Apartment, the meetings and events space which will also host The Hoxton's own curated series of events.
Brooklyn's 2018 openings include Baltic Huis and The Bond Hotel while across the city, hotel developments continue apace with the new Times Square Edition, two Moxy properties in Chelsea and Downtown plus a citizen M Hotel all set to open their doors this year.
While in the city, don't miss the 50th anniversary of the largest tennis championship in the States. From 27 August until 9th September, Serena Williams, Roger Federer, Rafael Nadal and chums will grace the newly renovated USTA Billie Jean King National Tennis Center, while fans can brush up on the history the Open and celebrate its future at the US Open Fan Week festival.
And if this summer's World Cup hasn't been enough to sate your soccer soul, check out the International Champions Cup which kicks off in New York on 25 July. Bringing together some of the top teams from the UK, Italy, Spain and Portugal, the tournament will welcome Manchester United, Liverpool, Benfica, Juventus and Real Madrid among other top flight talent.
For more on New York inspiration, check out our Destination Guide on micebook
Our global supplier members are busy building their content and creating stunning profile pages, so please bear with us while in our soft launch (beta) phase. Your feedback is important to us as we roll out new features, so please share, get on board and help us make this the definitive inspiration hub for #eventprofs